About your benefits

---
In New Brunswick, workers' compensation is administered through a no-fault insurance system set up under the Workers' Compensation Act. The system is designed to protect employers and workers by compensating injured workers and protecting employers from being sued by workers who are injured on the job.
Definition of a worker
You are entitled to workers' compensation coverage whether you are a full-time, part-time, temporary or casual worker. The Workers' Compensation Act of New Brunswick states: "worker" means a person who has entered into or works under a contract of service or apprenticeship, written or oral, express or implied, whether by way of manual labour or otherwise, and includes:
(a)
a learner,
(a.1)
an emergency services worker within the meaning of any agreement made under the Emergency Measures Act between the Government of Canada and the Government of New Brunswick in which provision is made for compensation with respect to the injury or death of such workers,
(b)
a member of a municipal volunteer fire brigade, and
(c)
a person employed in a management capacity by the employer, including an executive officer of a corporation, where that executive officer is carried on the pay-roll.
Am I covered?
Whether or not you are covered by workers' compensation insurance depends upon two factors:
The size and type of business run by your employer.
Your relationship with your employer.
Size and type of business run by your employer
All workers employed in industries where three or more workers are employed at the same time are generally covered. There are however, some exceptions to this rule, such as the fishing industry, where coverage is only mandated where 25 or more workers are at the same time usually employed.

Your relationship with your employer
Workers excluded from workers' compensation coverage are family members of the employer who reside with the employer and are under 16 years of age, persons employed as domestic servants, armed forces personnel, professional athletes and members of the RCMP.

Making sure
If you are not sure if you are covered, ask your employer if the business has workers' compensation insurance for its employees. You can also call WorkSafeNB's Assessments Inquiry line at 1 800 222-9775.

When am I covered?
Your workers' compensation coverage is in place from the time you arrive on your employer's property or job site until the time you leave, provided you are there for work-related purposes. There are some conditions under which you are covered while travelling to and from work, but WorkSafeNB reviews these cases individually.

Do I have to pay for my coverage?
No. Employers are not permitted to collect contributions toward your workers' compensation coverage from your earnings.

As well, if you work for an employer that must have workers' compensation insurance, but has neglected to pay their annual premium, you are still covered in the event you are injured at work.

Resource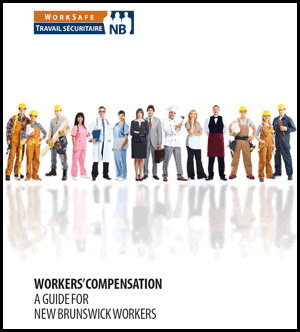 © 2018 WorkSafeNB