Board of Directors

---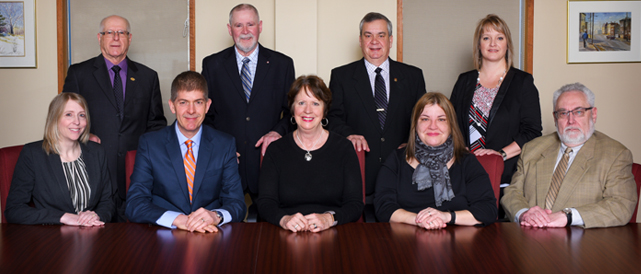 Back row, L to R: Lucien Sonier, Hector Losier, Gaëtan Guérette and Tina Soucy.
Front row, L to R: Julie Marr, Tim Petersen, Dorine Pirie, Haley Flaro and James Stanley.
Missing: Maureen Wallace, Michèle Caron.
WorkSafeNB's affairs are administered by a board of directors consisting of persons appointed by the Lieutenant-Governor in Council.

The board of directors is charged with the stewardship of WorkSafeNB, a corporate entity created to administer the acts governing workers' compensation and workplace health and safety in New Brunswick. These are:
The Workers' Compensation Act
The Occupational Health and Safety Act
The Workplace Health, Safety and Compensation Commission & Workers' Compensation Appeals Tribunal Act
The Firefighters' Compensation Act
The board consists of a chairperson, a vice-chairperson, four members representing workers and four members representing employers. WorkSafeNB's president and CEO also sits on the board as a non-voting member.
As part of the board's commitment to remaining accountable and transparent through effective communication, oversight, auditing and evaluation, members' compensation and expenses are available for viewing. Minutes from the board's monthly meetings are also available.
© 2018 WorkSafeNB